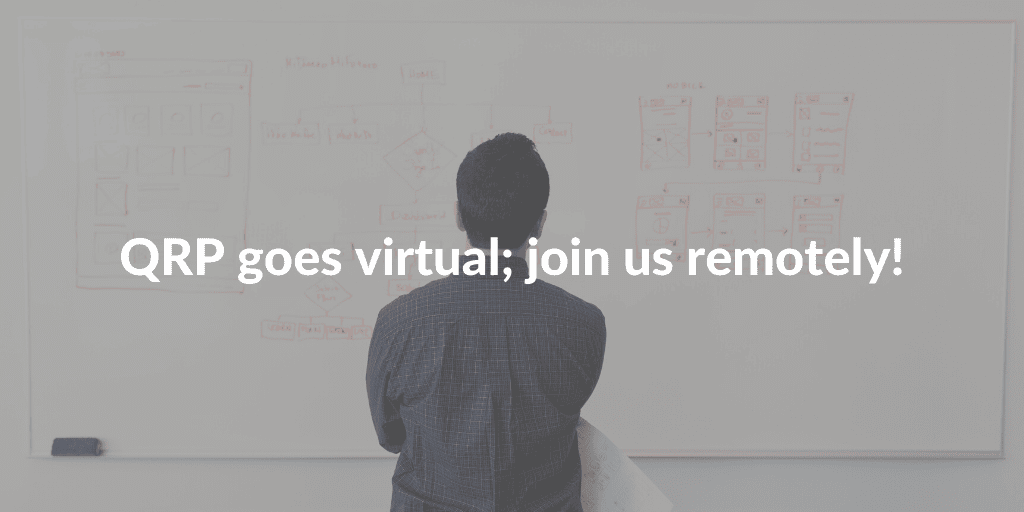 QRP International loves to organize events that will help you grow professionally. We like to continue your training outside of the classroom and keep you involved in the Best Practice Methodologies. Unfortunately we had to postpone many of our 'real-life' events to a later date this year, but we found another way to provide you with food for thought; online events!
We did not only change all our courses into online courses in our virtual classroom, we also planned a series of webinars to inspire you. The webinars we planned are the following;
April 30th, 11.00 AM; How to apply PRINCE2 Virtually?
Our expert and accredited trainer Stijn Janssens will help you apply PRINCE2 virtually. He will cover topics such as communication, changes of processes and lessons learned. Of course you can also ask any questions you might have.
To watch the webinar recording, click here.
May 19th 16.30 PM; Agile Frameworks
The term Agile always raises room for discussion, there are many different opinions and perspectives. Can you explain what Agile means to you and your organization? We asked our expert and accredited trainer Kim Delgadillo to once and for all explain about the different Agile Frameworks. Find out what fits your organization!
To watch the webinar recording, click here.
June 2nd 16.30 PM; SCRUM Master by APMG
SCRUM is a framework that changed the way of work for thousands of organizations. It helps prioritize and deliver. One of the most important roles within the SCRUM set up is the SCRUM Master, but what does he/she actually do? We asked our expert Kim Delgadillo to take you on a journey into the world of the SCRUM Master during a free webinar. 
To watch the webinar recording, click here.
June 23rd 16.30 PM; Trial and error; applying ITIL 4
You have followed the course, passed the exam and are now a proud owner of an ITIL 4 certificate. But what do you do next, how to actually apply ITIL 4 on a daily basis? ITIL 4 is created to adopt and adapt, to tailor to your organization. Easier said than done, we know. That is why we invited our expert and trainer Kais Albassir to host an online ITIL 4 user event. 
During this afternoon, Kais will share his take on the ITIL 4 application. But that is not all, we will create a discussion and answer all questions you might have.
Join us here for free!
For any questions, feel free to contact us directly.